For information about the game, see Zombie Jombie Wiki:About Zombie Jombie.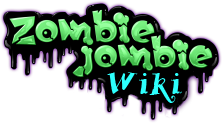 Founded on 27 March 2012, this wiki is created as a game guide for Zombie Jombie , an iOS game created by Gree. Zombie Jombie Wiki is dedicated to helping Jombies(gamers) find the best cards and learn tactics to be the best Zombie Jombie player possible!
We'd love people to help build Zombie Jombie Wiki! All valuable contributions are appreciated! The home page and some pages will be locked to prevent vandalism, but all other pages will be open for editing. If you create a page, and you want a link for it to be placed on the home page or navigation bar, please contact an admin and we'll link it.
If you'd like to start contributing, please visit the Community Portal for more information on how to use a wiki. While you're there, please also visit the Community Portal's Talk Page. You can find various links there, like our Help Desk Forum . Or if you'd like to discuss a non-wiki topic on our forums, please visit our General Discussion Forum. For rules and policies, please visit Rules and Guidelines and Policies.
Disclaimer
Zombie Jombie Wiki is not associated in any official way with GREE International, Inc., its subsidiaries, or its affiliates. Zombie Jombie is a trademark and copyright of Gree and its related entities. The information available on this wiki are considered Fair Use under US Copyright Law, intended for informational purposes only.
Community content is available under
CC-BY-SA
unless otherwise noted.